Taking over a garden is a curious business, initially you feel an intruder and hesitant to make changes.
In my case it is definitely an uneasy new relationship, where circumstances have thrown both parties together, not necessarily by choice.
For my part I have to persuade this neglected garden that my intentions are both honourable and benign.
For its part, I am hoping for some cooperation and surprises.
I am very aware that this garden has its own character, its own strengths and weaknesses and that hopefully we can combine our talents to create something lovely. There will be things to negotiate, some ground rules to establish and both compromises and discoveries to be made.

Ghosts and Discoveries
Currently I'm in the discovery phase. Although superficially there is not much in this garden, as I explore a little more, a distant history of love and care is becoming more evident.
I have found the old remains of a compost heap, its archeological layers revealing a thoughtful past. Digging has unearthed faded plant labels, and a few pale name sticks belonging to the ghosts of plants long gone plants: rue, carrots, santolina, and snow in summer.
There are piles of rocks, and pebbles which are from somewhere else, the leg of a plaster dog, a small concrete toadstool, 2 shiny spiral shells, and some odd pieces of Lego still glowing brilliantly in the earth.
Someone tried to improve this heavy soil with bags of sand, I found one buried behind the shed.
Wooden edging was carefully laid and a swelling  curve was made in one of the borders just to relieve the straight lines.
By the hardstanding is a boat tethering hook. I find all this a quite fascinating and quite touching.
The Cat Flap
But, most poignantly of all, clearing the undergrowth from around the shed revealed a, now rusted, cat flap. I wonder who it was, which Tiddles, Fluffy or High Priestess-Slayer-of-Mice snoozed away their sundrenched afternoons in there.
How many saucers of milk, how many fond strokings and caresses were administered and how many little animal offerings were laid in return at the kitchen door.
I think I will restore it to full working order… just as I will take a strip out of the wooden perimeter fence to allow small creatures both access and escape.  Who knows what little animal might need a refuge.
Tiny sketchbook note.. pre shed-painting.
An Interesting (American) Plant
As I go I am trying to identify the plants which already grow in the garden. At  this time of year you have to take care, you really don't know who or what is sleeping or where.
Already in the desolate wasteland of the front mud patch there are a few bluebells struggling up through the gravel and some daffodil leaves are emerging by the fence… hope!
And over by the fence there is a tall leggy shrub which still has a few leaves. Over the last few weeks I have driven myself mad trying to identify it. Then I stumbled upon it by accident ..it is a Fremontodendron and a completely new plant to me. These are the leaves,  a small mallow shape but with a very rough pale underside, rather like sandpaper.
and this is how it will flower…hopefully…  Fremontodenron ….the Flannel Bush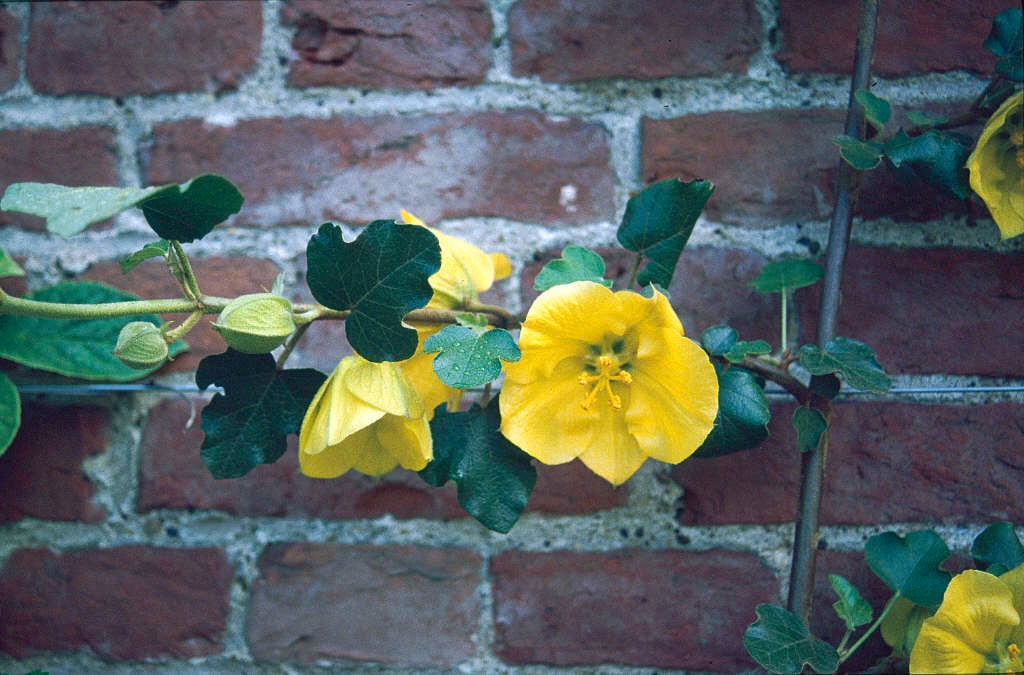 Photo Flannel bush 'California Glory' from the RHS website. Family Malvaceae
This showy shrub is originally from the Southwest USA and Northwest Mexico, but does appear to be a good UK shrub, for a sunny wall particularly. Mine does not have a wall to snuggle up to, only a low fence and a bit of hedge and I would not say it is particularly happy…
I am watching the poor thing being lashed by the rain and wind as I write, but it is a rather nice discovery and I am looking forward to those bright happy flowers.
Should we be feeling the lack of Florida sun (yes, we are) this will help cheer us up.  In fact if we are missing the USA there have been some odd comforting reminders here.
We bought the ugly bungalow from a (non gardening) American lady who left a few cleaning products, so when I opened the cupboards there were my old USA friends; Clorox, swiffers, some unidentifiable soaps and bleaching products, all with USA labels, she will have bought them from the local USA air base shop.
And now this USA tree… which I am certain she did not plant.
She will, I think, have been totally unaware of the presence of her compatriot over by the hedge.
Not only is this handsome plant from America, it is also named after an all American hero,  one "John Charles Frémont (January 21, 1813 – July 13, 1890), an American military officer, explorer, and the first candidate of the anti-slavery Republican Party for the office of President of the United States"
There is a fascinating and very enthusiastic website about him http://www.longcamp.com/ which has many accounts of his exploits.
"His enterprises are full of hardship and peril,
and the wildest romance.
To sleep under the open heaven,
and depend on one's rifle for food,
is coming about as near the primitive state of the hunter
as a civilized man may well get;
and yet this life, in this case,
is adorned with the triumphs of science."
…Walter Colton
It seems he was a complex man, but amongst other things was an extraordinary explorer and botanical collector. "In the course of his five explorations of the West, Frémont collected over 1,400 botanical specimens, many new to the taxonomy–163 new species or varieties, 19 new genera."
Below is a surviving specimen sheet of Scutellaria antirrhinoides var. californica, Scullcap, collected on one of his hair raising trips to the West. One where many of his horses and his collected plants were lost.
Image and info again from the Longcamp site, see botany.
Fremontodendron Leaf
A small sketch of the leaf…which was beginning to curl by the time I got round to drawing it.
I am glad to have this plant growing opposite my studio window. I will be reminded of sunshine and friends, both animal and vegetable, back in the USA and of those extraordinary explorers of the 19th century who I find so fascinating and so inspirational.