Back in January I worked on a lovely new wine label commission for Jeff Nelson at Liquid Farm Winery in the USA.
I had worked on their main logo about 10 years ago when I was still in the USA, but this time the theme was the cheerful dandelion. Happy, bright, colourful and abundant in the vinyards …oh and with the addition of a bee. 🙂
How nice is that!
Seeing it again now, as winter is approaching, is making me feel just a little bit more optimistic about things. That is much needed.
It's a pencil drawing with additional watercolour.
Pencil and watercolour artwork. 
This is from The Liquid Farm website: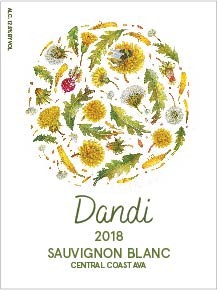 "The finished wine is more reminiscent of a Sauvignon Blanc from the Loire Valley, with notes of Meyer lemon, honeycrisp apple, and wet river rocks. The use of oak contributes to the weight and roundness of the wine. Pair this with salmon, sole piccata, or tagine chicken."
Hmmm sounds delicious .. can't wait to try it!   …. just saying Jeff… just saying…:)
Despite the lull in posting I have been really busy with my normal round of experiments and trials and the start of a rather complex book/box/print project.
Posts to come soon.